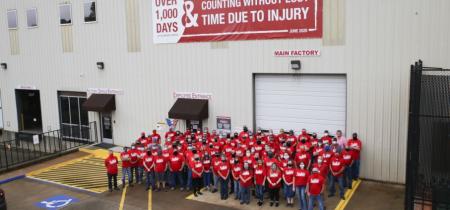 Paragould, Arkansas USA – Allen Engineering, a premier leader in manufacturing concrete equipment, proudly celebrates over 1,000 days without lost time due to injury.
This accomplishment is something Allen Engineering has been pursuing for nearly four consecutive years. The company prides itself on educating its associates on proper protocols and rewards them for good safety practices when they meet distinctive milestones.
Pictured: Allen associates wearing masks gather before the company's congratulatory lunch for a group photo under a celebratory banner.