I. ORDERING POLICY
To place an order: please use appropriate part numbers, descriptions, and net pricing for the equipment on your purchase order. All AEC Pro Dealers will order at net prices (list, less appropriate discount). All this information should be listed on your purchase order.
ORDERING PROCEDURES
Fax your purchase orders directly to AEC Customer Service at 870-236-3934 or 800-643-0097 24 hours a day, or email your orders to 

[email protected]

. ORDERS WILL NOT BE PROCESSED UNTIL A CONFIRMING PURCHASE ORDER IS RECEIVED IN CUSTOMER SERVICE!
You may call our Customer Service Office at 870-236-7751 or 800-643-0095 from 7:30 a.m. until 5:00 p.m. (U.S. Central Time) Monday through Friday to ensure you are ordering the correct equipment with the correct part numbers.
II. FREIGHT POLICY
1. SHIPPING AND FREIGHT DETAILS
All service parts orders that require next-day delivery, must be faxed or emailed to AEC Customer Service by 2:00 p.m. Central Time. These orders are shipped via courier (Federal Express or UPS) and are sent freight pre-paid and add (freight charges are added to the invoice). A minimum freight charge of $15.00 will be accessed on courier orders
Allen Engineering uses a variety of freight carriers for equipment orders. Unless a carrier is specified on the purchase order, AEC will select a carrier and the freight cost will be added to your invoice as outlined in #2.
2. STANDARD MOTOR FREIGHT (VIA COMMON CARRIER OR AEC TRUCK)
A standard freight rate will be charged with a minimum freight charge of $150.00 if the order total+% does not equal at least $150.00. The Location-Based Freight rate is Net Order Value x 5, 6, or 7% (Continental USA ONLY/ Please see attached map).
Note: Freight Carrier or other surcharges that may become effective from time to time will be added to standard AEC freight charges.
3. COURIER PACKAGES (FEDEX & UPS)
Service parts and any small package items will be shipped pre-pay and add charges to the customer invoice. There will be a minimum courier freight charge of $15.00 that applies to all orders. Next-day shipment requests must be received by AEC Customer Service no later than 2:00 PM Central Time.
4. NON-STANDARD FREIGHT
All paving equipment orders will be F.O.B Paragould AR 72450 and are excluded from the Uniform Freight Rate. All Tier 1 & Tier 2 orders that INCLUDE any product 12' (3.66m) and over in length will have an additional freight charge of $150.00. Free freight qualified orders will not incur added costs for extra length charges.
5. FREE FREIGHT
a. Pan and Trowel Blade orders (only) with a net order value of $5,000 or more will be shipped freight prepaid to any single continental USA location. Pan and Trowel Blade orders with a net order value of less than $5,000 will be shipped prepaid and charge (PPC) based on the location provided in the freight rate map. One pallet of pans (10 min/20 max per pallet) or one pallet of trowel blades (50 sets of 4 blades minimum – 75 sets maximum per pallet) will count as one unit to qualify towards either a Tier 1 or Tier 2 order.
b. Orders must include equipment with a net order value of $50,000 to receive free freight to any single continental USA location. All other equipment orders will be shipped prepaid and charge (PPC) based on the freight map and order value.
c. Paving Equipment and Non-Standard Freight (freight exceeding 12' or 3.66m): Orders will be F.O.B. Paragould, Arkansas 72450 and will be shipped prepay and charge actual freight (PPC) or freight collect. In instances where a single PPC shipment includes paving or non-standard freight, actual freight will be charged in lieu of any flat-rate program offered above. Quotes for Paving Equipment must be requested from AEC Logistics.
Any customer who requests expedited shipping will be charged the additional cost of expedited shipping. A free freight order that is requested to be expedited will be charged the expedited charges only and not the standard freight amount. The customer is responsible for all expedited freight charges. All freight charges resulting from freight collect shipments will be billed to the customer by the freight carrier. The customer is responsible for all charges resulting from freight collect shipments. 
Free freight orders are shipped on a carrier chosen by AEC and a request to ship on a specific carrier will nullify the free freight bogeys mentioned above. If the customer chooses the carrier, then freight charges will be added to the order to accommodate the carrier's request. Free freight is designated to one location and will not be applied to shipments made to multiple locations. If AEC is requested to ship and backorder on a shipment that meets the free freight bogeys above, but the backorder total does not reflect the above, then freight will be charged on the initial shipment as well as the backorder shipment. 
FREIGHT RATE MAP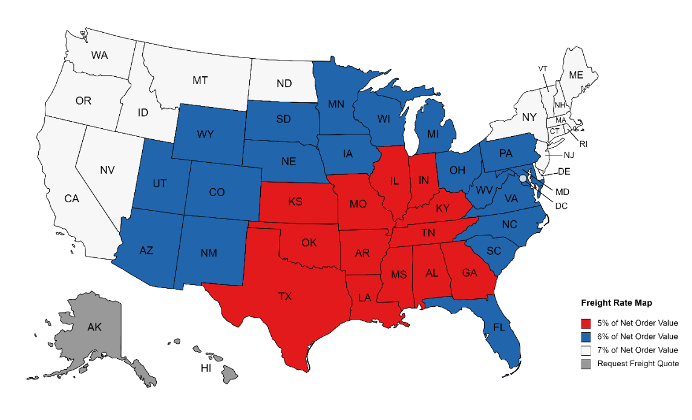 III. FACTORY AUTHORIZED SERVICE CENTER (FASC) PROGRAM
IMPORTANT DETAILS REGARDING THE PROGRAM
This program works in conjunction with the AEC Customer Program.
Service Centers must complete an AEC FASC Training Course before receiving FASC designation. These FASC Training Courses will be scheduled throughout the year to be held at AEC HQ in Paragould, AR. To see a schedule go to www.alleneng.com and follow the link marked Training.
Standard AEC Customer Class Discounts apply to all products other than Service Parts.
FASC's will receive discounts on service parts as listed above.
All Factory Authorized Service Centers will be listed on the AEC website.
All FASC's will be authorized to process warranty claims on AEC's behalf up to $1,500 if the claim conforms with the AEC Warranty Policy.
IV. LIMITED WARRANTY & LIMITATION OF LIABILITY
Allen Engineering Corporation ("Allen") warrants its products to be free of defects in material or workmanship for:
TWO YEARS FROM END USER'S DATE OF PURCHASE
The warranty period begins on the date of purchase by the End User of the product. All warranty is based on the following limited warranty terms and conditions, including the disclaimer of implied warranties and consequential damages.
Allen's obligation and liability under this warranty is limited to repairing or replacing parts if, after Allen's inspection, there is determined to be a defect in material or workmanship. Allen reserves the choice to repair or replace.
If Allen chooses to replace the part, it will be at no cost to the customer and will be made available to the Allen Distributor, Dealer, or Rental Center from whom the End User purchased the product.
Replacement or repair parts, installed in the product, are warranted only for the remainder of the warranty period of the product as though they were the original parts.
Allen does not warranty engines or batteries. Engine warranty claims should be made directly to an authorized factory service center for the particular engine manufacturer. Batteries are not warranted due to unknown treatment during transport, etc, and any battery claims should be directed to the battery manufacturer.
Allen's warranty does not cover the normal maintenance of products or their components (such as engine tune-ups and oil & filter changes). The warranty also does not cover normal wear and tear items (such as belts and consumables).
Allen's warranty will be void if it is determined that the defect resulted from operator abuse, failure to perform normal maintenance on the product, modification to product, alterations, or repairs made to the product without the written approval of Allen. Allen specifically excludes from warranty any damage to any trowels resulting from an impact to the rotors.
Impact damage to gearboxes is not covered under the Allen warranty and is deemed customer abuse.
Allen will pay shop labor on warranty items at the Allen Shop Labor Rate in existence on the date of the warranty claim. An Allen labor chart will determine the time allowed to complete a repair and will govern the shop labor hours that will be allowed.
Allen will pay freight on warranty replacement parts at worldwide standard ground rates. No warranty replacement parts will be shipped air-freight at the expense of Allen. Allen only pays outbound freight charges when sending warranty replacement parts to the customer via ground service. Allen does not pay any inbound freight. However, if Allen determines this to be a warranted item, only then will Allen reimburse the customer for inbound freight at standard ground rates.
ALLEN ENGINEERING CORPORATION'S WARRANTY POLICY WILL NOT COVER THE FOLLOWING: TAXES; SHOP SUPPLIES; ENVIRONMENTAL SURCHARGES; AIR FREIGHT; TRAVEL TIME; LOSS OF TIME; INCONVENIENCE; LOSS OF RENTAL REVENUE; RENTAL COSTS OF EQUIPMENT USED TO REPLACE THE PRODUCT BEING REPAIRED; LOSS OF USE OF THE PRODUCT; COMMERCIAL LOSS; OR ANY OTHER CHARGES WHATSOEVER OR ANY LIABILITIES FOR DIRECT, INCIDENTAL, OR CONSEQUENTIAL DAMAGE OR DELAY.
ALLEN ENGINEERING CORPORATION MAKES NO OTHER WARRANTY, EXPRESSED OR IMPLIED. THIS LIMITED WARRANTY IS IN LIEU OF THE WARRANTY OF MERCHANTABILITY AND FITNESS. THERE ARE NO OTHER WARRANTIES THAT EXTEND BEYOND THE DESCRIPTION ON THIS DOCUMENT.
No Allen employee or representative is authorized to change this warranty in any way or grant any other warranty unless such change is made in writing and signed by an officer of Allen Engineering Corporation.
V. STANDARD TERMS AND CONDITIONS OF SALE
For the purpose of these terms and conditions of sale, "Allen" shall mean Allen Engineering Corporation (AEC) headquartered at 819 South Fifth Street; Paragould, Arkansas 72450 U.S.A. This writing constitutes the complete and exclusive statement of the terms and conditions of sale, and the Seller's obligation to sell is expressly conditioned upon assent to these terms and conditions. Purchaser will be deemed to have assented to these terms and conditions unless the Allen receives written notice of any objections within five (5) days of the date the Purchaser receives these terms and conditions. No additional or different terms or conditions will be binding upon Allen unless specifically agreed to in writing by Allen.
1. ORDERS
a. Allen assumes responsibility only for written orders. Telephone orders must be confirmed with a written purchase order sent via fax or email before an order will be processed. Orders written by Allen Personnel on an Allen Sales Order Form must be signed by Purchaser.
b. All backorders will be acknowledged on Allen's order acknowledgment, packing slips, and invoices. Purchaser will be responsible for all freight charges on the back-ordered products.
c. All special equipment ship date estimates are approximate and subject to necessary construction changes.
d. All engineering drawings, computations on estimates, patents, and copyrights used are the property of Allen.
e. All orders are subject to acceptance by an Officer of Allen. Acceptance shall be assumed unless written notice of rejection of the order is faxed or emailed to the Purchaser within five (5) days after receipt of the order.
2. PRICES AND PAYMENTS
a. All prices quoted on machines, accessories, and parts are subject to change without notice. List prices and applicable trade discounts as of the date of delivery will be used unless a written firm price commitment has been issued from Allen.
b. All prices are quoted Free On Board (F.O.B.) Allen Factory or Satellite Warehouse with standard commercial domestic packaging.
c. The entire risk of loss shall pass to the Purchaser at the F.O.B. point, and Purchaser, therefore, assumes all responsibilities for shortage, loss, delay, or damaged in transit.
d. Unless otherwise agreed upon in writing at the time of order placement, payment is due according to our standard terms of payment: 2% fifteen (15) days, net thirty (30) days from invoice date. Any other payment arrangements have to be covered by specially written contracts for each transaction. Interest shall accrue on overdue invoices at the rate of 1 ½ % per month, if not prohibited by law, otherwise at the highest lawful contract rate. Allen shall further be entitled to recover from the Purchaser all costs of collection of overdue invoices, including reasonable attorneys' fees.
e. Allen reserves the right to establish open account terms and limits as well as payment prior to shipment terms for a specific
f. Purchaser when it deems advisable to do so.
g. Counterclaims by Purchaser against invoices must be acknowledged and approved in writing by Allen before they can be deducted from payments on the invoice.
3. DELIVERY
a. Upon receipt, all orders will be given prompt attention. No claim will be allowed for delivery delays due to mail service, interruption in fax or electronic mail transmissions, acts of God, fire, strike, or other labor disturbances, shortages of materials, or any other factor or event beyond Allen's reasonable control. In any event, the sole and exclusive remedy of the Purchaser for a delay in shipment shall be the cancellation of the order.
b. Shipments will be made promptly as the merchandise is ready for shipment, and if applicable, agreed financing paperwork is complete.
c. All backorders will receive prompt consideration to the best ability of Allen. AEC does not pay freight on the back-ordered products.
4. JOBSITE TRAINING
Some Allen Equipment requires additional jobsite training. If additional training is requested by customers the following terms will apply. The number of technicians required will be determined by AEC and will be based on the complexity of the job to be performed. The charges for these services are outlined below and will be charged accordingly.
DETAILS
a. If a technician is required on the job by the contractor, days will be billed at a rate of $1,575 per day.
b. If there are any project delays, not caused by Allen Technician or Allen Equipment, additional charges will be charged ($1,575/day). Weather delays are included and charged accordingly.
c. Any additional trips, to the jobsite for any reason not caused by Allen Engineering or Allen Equipment, will be at an additional cost to the customer and billed at $1,575/day.
d. It is required that all project preparation, equipment, tools, and personnel are available when the Allen Technician arrives on-site to insure prompt setup and training.
NOTE: International technical service charges will be determined at the time of sale.
HAZARDOUS CONDITIONS
When working with hazardous materials, such as polyester concrete, the customer is responsible for providing all AEC Technicians with protective gear to ensure their safety. This protective gear includes but is not limited to eye protection, skin protection, and respiratory protection.
HAZARDOUS MATERIALS
The customer is responsible for the disposal of any hazardous materials accumulated during servicing or repairs of the customer's equipment by AEC Technicians. These hazardous materials include but are not limited to, used hydraulic oils, used motor oils, and fuels.
5. SPECIAL APPLICATIONS
ENGINEERING CHARGES
Any products other than standard products that require special engineering by AEC may be subject to special engineering charges. These charges will be determined based on the complexity of the project.
ENGINEERING DRAWINGS
Customer must approve all special engineered products requiring engineering drawings before the product will be built
NOTE: All terms and conditions shall apply unless otherwise stated on quotations.
6. RESERVATION OF SECURITY INTEREST
Allen may require, prior to shipment, that the Purchaser execute and deliver a security agreement creating a security interest in the products to be sold hereunder to secure payment of the purchase price, and all other documents that may be necessary or desirable to perfect the security interest. 
7. PATENTS
Beyond issued or pending patents of our products, Allen reserves all rights to apply for further patents with respect to our products or processes which are developed by Allen or its associates.
8. TAXES
All taxes for sales, income, or personal property assessed against the sale or storage of any of our products must be paid for by the Purchaser. In the event Allen is required to pay any such tax, the Purchaser shall reimburse Allen upon demand.
9. DEMONSTRATION EQUIPMENT
a. Allen offers Allen Concrete Equipment for demonstration purposes through our Allen Regional Sales Team.
b. A Care, Custody, and Control document must be signed by the customer or prospect before an Allen Concrete Equipment will be demonstrated on a job site.
10. GENERAL
a. Allen is not responsible for delays in getting parts and assemblies from other companies which are used in the manufacturing of its products.
b. Except as defined in this document and under Allen's Warranty Policy, no liability shall attach to Allen on account of delays or damages caused by conditions beyond our control. These terms shall also apply to all repair and replacement parts furnished by Allen.
c. Any statements made by Allen regarding the general performance or capacity of any apparatus furnished by us is made in good faith and is founded upon our observation, experience, and judgment, but shall not, in any case, constitute a basis of a claim against us for damages, or breach of contract, especially in regard to specific or improper usage or application of Allen products.
VI. WARRANTY CLAIM POLICY
Before contacting Customer Service regarding a possible warranty claim, you must have the following:
The end user's date and proof of purchase, or a copy of the completed warranty card or online warranty registration.
NEW AEC Benefit: Have your end-user complete warranty registration online at www.alleneng.com. This qualifies for an extended warranty or cash rebate.
Your original invoice copy from AEC, or a completed warranty card (or online registration).
The machine's model number and serial number, or a copy of the completed warranty card (or online registration).
A complete description of the problem or failure.
A warranty claim must be filed within 30 days of the date of failure
AEC WARRANTY PROCESS
1. Customer gathers information listed above and then completes a Return Goods Authorization form (RGA). You may download an RGA form by logging onto Allen Net at www.alleneng.com and going to Customer Resources.
2. After receiving the RGA form by fax or e-mail, Allen Customer Service will issue the RGA Number to the customer.
3. Customer then returns the goods to Allen freight prepaid with the RGA number included inside the package and RGA number displayed on the outside of the package. All collect shipments to Allen will be refused and returned at the customer's expense.
4. Allen then determines if the claim is warranty or non-warranty.
a. If warranty, AEC will issue a credit to customers account.
b. If non-warranty, AEC will notify the customer.
3. AEC has up to 30 days from the date a warranty claim has been submitted to process said claim
NOTE: AEC will only issue a credit to the customer's account; no cash refunds will be made. If a customer needs an Allen part to repair the end user's machine while waiting on warranty consideration, the customer will be required to order and purchase the replacement part.
VII. RETURN GOODS POLICY
1. New equipment or parts being returned to Allen Engineering will be assessed a restocking fee based on the following:
a. Equipment or parts received within 30 days from original invoice date – 0% restocking fee.
b. Equipment or parts received from 31 to 60 days from original invoice date – 10% restocking fee.
c. Equipment or parts received from 61 to 90 days from original invoice date – 20% restocking fee.
2. AEC WILL NOT ACCEPT any returns for any equipment or parts that are over 90 days old from the original invoice date.
3. AEC will only issue a credit toward your Allen Engineering account for returned equipment or parts. No cash refunds will be given.
4. AEC will not issue credit on returns of any used or damaged equipment or parts. All equipment or parts returned to AEC must be packaged to prevent damage during shipping.
5. Customer is required to pay all freight charges for returned equipment or parts and must have an RGA number before returning the equipment or parts. Shipments received by AEC that do not have an RGA Number will be refused and returned to the Customer at the Customer's expense. Collect shipments made to AEC will be refused and returned to the customer at their expense.
You may download an RGA form by logging onto Allen Net at www.alleneng.com and going to Customer Resources.
6.  Once an RGA request has been submitted AEC has up to 14 business days to process or decline
7. Once a preapproved RGA request has been returned AEC has up to 30-60 days to process the return.