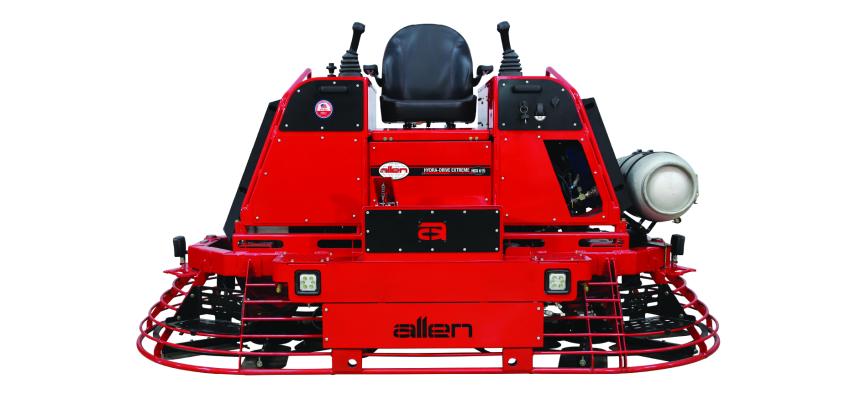 Paragould, Arkansas USA - Allen a leader in professional quality concrete placement, finishing, polishing, and paving equipment, announced the debut of their newest Hyrda-Drive Extreme Rider. The rider model 615 Hydra-Drive Extreme (HDX) is an eight-foot, fully hydraulic beast of a machine, powered with a dual-fuel PSI engine.
The new HDX615 comes equipped with a mechanical unloader hydraulic system providing reliable performance during the panning phase of concrete placement. The dual-fuel engine feature allows the operator to change between gasoline and LPG with a flip of a switch. Sporting longer run times with the multiple fuel options provides the operator with less downtime and more productivity.
HDX615 standard features include:
Dual-fuel PSI engine

Fully hydraulic

Electric spray control and electric pitch control on the joystick

Two-point lifting points

Super-duty cast iron spiders with super-duty trowel arms

LED lights
Allen Engineering Corporation (AEC) is headquartered in Paragould, Arkansas USA. The company designs, engineers, manufactures and markets concrete equipment with a number one goal of Total Customer Satisfaction.
AEC is a family-owned, American provider of high-quality equipment that is sold and rented through a network of dealers and rental centers around the world.