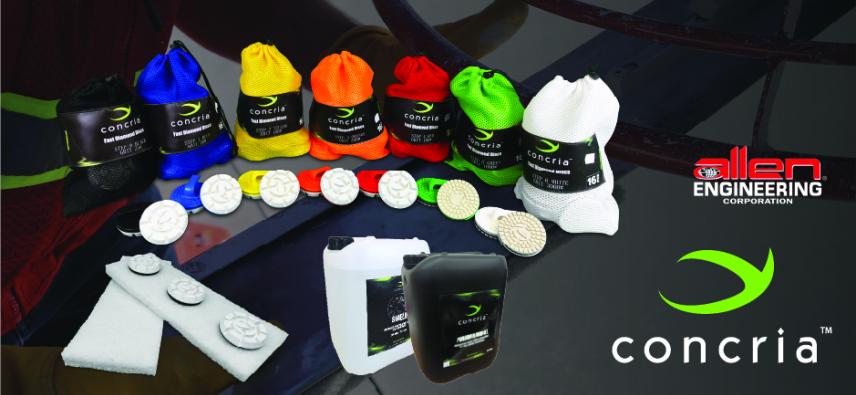 Paragould, Arkansas USA  – Allen Engineering Corporation a leader in professional quality concrete placement, finishing, polishing, and paving equipment, announced their newest partnership with Concria™. We are excited for this partnership and to add this new brand and tooling solution to our polishing product offering. The Concria™ system is widely recognized as the original power trowel polishing system and its' new FAST system allows end users to quickly and easily convert their power trowel into a concrete polishing machine.
This easy-to-use seven step system consists of high-quality diamond discs that are attached by flexible mounting pads directly to trowel blades, allowing for maximum diamond contact across both high and low spots. The Concria™ chemical line includes colloidal finishing aids, densifiers and hydrophobic sealers that are second to none and available in the USA now.
Our official introduction for Concria™ will take place at the 2023 World of Concrete in Las Vegas. Please visit us at the Las Vegas Convention Center in Central Hall at Booth #4315 and get a closer look at this fast and easy solution for your next polishing job.
 Allen Engineering Corporation (AEC) is headquartered in Paragould, Arkansas USA. The company designs, engineers, manufactures and markets concrete equipment with a number one goal of Total Customer Satisfaction.
AEC is a family-owned, American provider of high-quality equipment that is sold and rented through a network of dealers and rental centers around the world.
brooklyn escorts