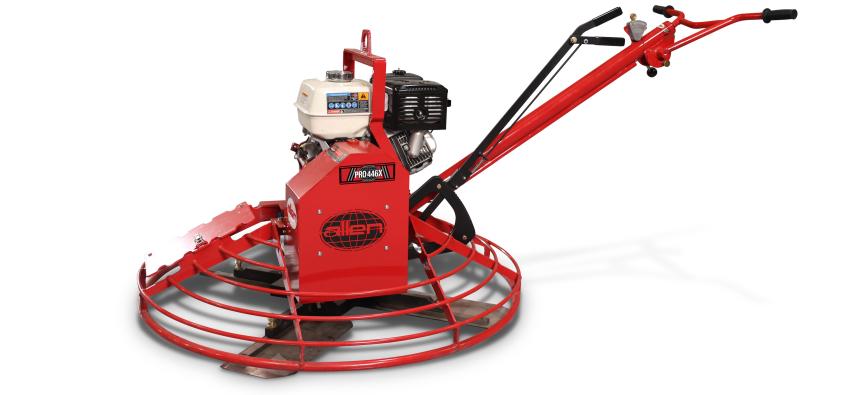 Paragould, Arkansas USA - Allen a leader in professional quality concrete placement, finishing, polishing, and paving equipment, announced the debut of their newest walk-behind trowel. The Pro446X is an all-new heavy-duty walk-behind trowel that comes with an efficient helical gearbox that can tackle the most demanding projects.
The Pro446X is the newest walk-behind trowel in the Allen lineup and is equipped with a variable torque converter clutch, allowing for low-speed torque and high-speed finishing. The plow handle design puts the operator at ease when pitching the blades to an all-new height.
Pro446X standard features include:
12hp Honda GX390 gasoline engine

Rotor speeds up to 225 rpm for greater job site efficiency

Adjustable plow handle design

Lifting point for easier transfer

4 blade walk-behind trowel machine

Efficient helical gearbox

Heavy-duty frame
Allen Engineering Corporation (AEC) is headquartered in Paragould, Arkansas USA. The company designs, engineers, manufactures, and markets concrete equipment with a number one goal of Total Customer Satisfaction.
AEC is a family-owned, American provider of high-quality equipment that is sold and rented through a network of dealers and rental centers around the world.